Weekly Market Commentary – 7/21/2023
-Darren Leavitt, CFA
US financial markets were mixed last week as investors continued to dissect 2nd quarter earnings results and economic data. The notion of a soft landing in the economy resonated with investors even as global central banks are poised to increase their respective monetary policy rates in the coming week.
The Fed will announce its decision on Wednesday, July 26th, where it is widely expected that they will raise by 25 basis points and come out with moderating hawkish tone. The European Central Bank will also likely increase its policy rate by 25 basis points. Still, it will likely continue to be much more hawkish on its future path of monetary policy. The Bank of Japan is expected to keep an accommodative policy but may infer changes to their yield curve control measures to stave off a further weakening of the Yen. The Bank of England meets on August 3rd, where it is expected to raise rates to thwart inflation that is well above levels seen in the US and other parts of the EU. The divergence in policy is something we have talked about often, and this divergence is likely to become more meaningful over the next few quarters.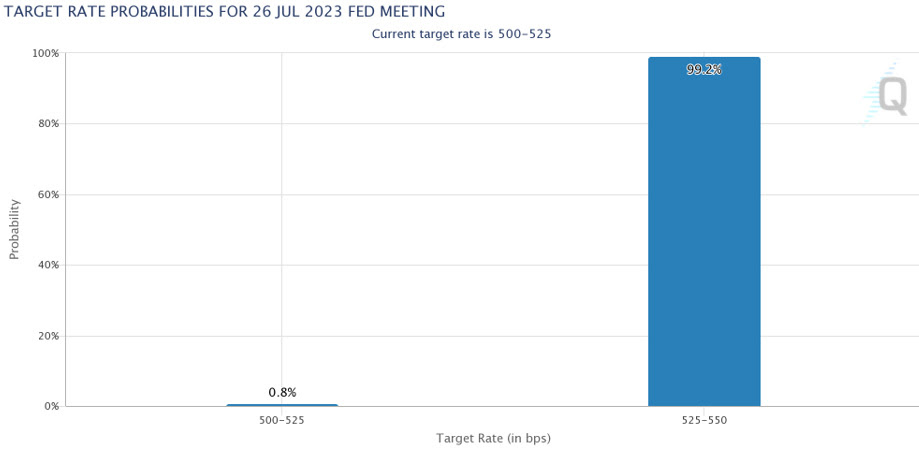 2nd quarter earnings announced over the week produced quite a bit of price action. Mega Cap issues such as Tesla and Netflix beat earnings expectations but sold off on cautious rhetoric from their leaders. There is also a concern that these "Magnificent Seven" names have traded to overbought levels and are due for a pullback. Taiwan Semiconductors' quarter was solid, but the company warned of waning demand for their products while at the same time slowing the build of their Fab in north Phoenix due to a lack of supply of skilled labor. Financials were a bright spot last week as Bank of America, Schwab, Morgan Stanley, and several regional banks showed better-than-expected results. In the coming week, we will get earnings from stalwarts Google and Meta.
Economic data for the week showed a labor market that continues to be resilient. Initial claims came in at 228k, well below recessionary levels, while continuing claims ticked up slightly to 1754k. Retail sales came in lighter than expected, with the headline and ex-auto figures increasing by 0.2% versus 0.6% and 0.4%, respectively. Housing starts and building permits also came in less than expected. This week we will get data on the Fed's preferred measure of inflation, the PCE. Final Q2 GDP figures will also be reported along with Personal Income and Spending.
The S&P 500 added 0.7%, the Dow rose 2.10% and inked its 10th straight of gains, the NASDAQ fell 0.6%, and the Russell 2000 increased by 1.5%. US Treasuries sold off after last week's monster rally. The 2-year yield increased by thirteen basis points to 4.85%, while the 10-year yield jumped by seven basis points to close at 3.85%.  Oil prices advanced 2.1% or $1.65, with WTI closing at $77.05 a barrel. Gold prices were little changed, closing at 1966.10 an Oz.  Copper prices fell by $0.11 to $3.82 a Lb.
Investment advisory services offered through Foundations Investment Advisors, LLC ("FIA"), an SEC registered investment adviser. FIA's Darren Leavitt authors this commentary which may include information and statistical data obtained from and/or prepared by third party sources that FIA deems reliable but in no way does FIA guarantee the accuracy or completeness.  All such third party information and statistical data contained herein is subject to change without notice.  Nothing herein constitutes legal, tax or investment advice or any recommendation that any security, portfolio of securities, or investment strategy is suitable for any specific person.  Personal investment advice can only be rendered after the engagement of FIA for services, execution of required documentation, including receipt of required disclosures.  All investments involve risk and past performance is no guarantee of future results. For registration information on FIA, please go to https://adviserinfo.sec.gov/ and search by our firm name or by our CRD #175083. Advisory services are only offered to clients or prospective clients where FIA and its representatives are properly licensed or exempted.