October 30th, 2020
-Darren Leavitt, CFA
Markets sold off in what was a hectic week.  The earnings and economic calendar were stacked.  Coronavirus infection rates ticked higher and induced lockdown measures in France, Germany, and the UK, which hindered sentiment.  The uncertainties surrounding the election outcome also gave investors reason to move to the sidelines.  For the week, the S&P 500 lost 5.6%, the Dow was hit the hardest, losing 6.5%, the NASDAQ shed 5.5% falling below 11k, and the Russell 2000 gave up 6.2%.  US Treasuries offered no cover.  The 2-year note yield ticked one basis point lower to 0.15%, while the 10-year yield increased by two basis points to close at 0.86%.  Oil got hammered on the tempered economic outlook, losing 10.5% or $4.18 to close at 35.70 a barrel.  Gold managed a small gain of $3.40, closing at 1908.60.  We did have a change in our Momentum and Flex models, where we reduced our exposure in emerging markets and used the proceeds to increase our exposure to investment-grade credit.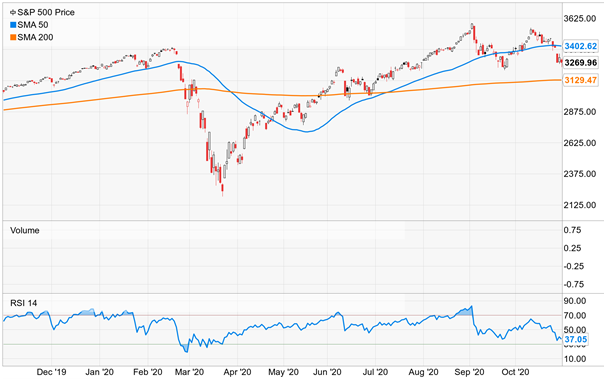 The week started with a horrible earnings report out of German software provider SAP.  The company missed expectations and lowered expectations on economic growth concerns. The announcement set the tone in Europe's Monday morning session; the sell-off caused additional selling overnight in US futures markets.    In the US, it was the busiest week so far for 3rd quarter earnings announcements.   The week featured several stalwart technology company results.  Interestingly, Apple, Facebook, and Amazon announced in-line to better than expected results but sold off on the notion that the results were already priced into the stocks.  Of note, many technology company CEOs were also in front of Congress during the week, answering multiple lines of questioning.  Google and Microsoft had better than expected earnings and were able to trade higher.  Twitter missed expectations and lowered guidance, which hammered the stock.
The economic calendar was full during the week and again offered a mixed bag of results.  Personal income and spending both beat expectations with gains of 0.9% and 1.4%, respectively.  The final reading of the University of Michigan Index of Consumer Sentiment came in at 81.8 versus 81.2 and up from the prior reading of 80.4.  Consumer Confidence regressed a bit, coming in below expectations at 100.9 and below the previous reading of 101.3.  Initial jobless claims were slightly better at 751k, and Continuing Claims continued to fall, coming in at 7.756 million versus last week's number of 8.465 million.  New Home Sales data was surprisingly weak, given what has been a red hot real estate market.  Sales came in at 959k versus expectations of 1040k and the down from the prior reading of 994k.
There are plenty of uncertainties for the market to consider right now.  The election results this week will likely have a significant influence on the market.  Additionally, a large spike in Covid-19 infections caused more lockdown measures in Germany, France, and the UK.  The lockdowns will undoubtedly affect the global economy and raised questions on further lockdown measures for other countries, including here in the US.
The information in this Market Commentary is for general informational and educational purposes only. Unless otherwise stated, all information and opinion contained in these materials were produced by Foundations Investment Advisers, LLC ("FIA") and other publicly available sources believed to be accurate and reliable.  No representations are made by FIA or its affiliates as to the informational accuracy or completeness.  All information or ideas provided should be discussed in detail with an advisor, accountant or legal counsel prior to implementation. No party, including but not limited to, FIA and its affiliates, assumes liability for any loss or damage resulting from errors or omissions or reliance on or use of this material.
The views and opinions expressed are those of the authors do not necessarily reflect the official policy or position of FIA or its affiliates.  Information presented is believed to be current, but may change at any time and without notice.  It should not be viewed as personalized investment advice. All expressions of opinion reflect the judgment of the authors on the date of publication and may change in response to market conditions. Due to rapidly changing market conditions and the complexity of investment decisions, supplemental information and other sources may be required to make informed investment decisions based on your individual investment objectives and suitability specifications. You should consult with a professional advisor before implementing any strategies discussed. Content should not be viewed as an offer to buy or sell any of the securities mentioned or as legal or tax advice. You should always consult an attorney or tax professional regarding your specific legal or tax situation. Investment advisory services are offered through Foundations Investment Advisors, LLC, an SEC registered investment adviser.